If you're looking to enhance your outdoor living space, installing an outdoor kitchen on your deck is a great way to do it. Whether you're planning for new ways to entertain guests, or you just want a way to bring your family together in a relaxing setting, outdoor kitchens are fun, practical additions that will open all kinds of possibilities.
There are special considerations to keep in mind when preparing or building a deck for an outdoor kitchen. Al fresco cooking and dining will place a lot of unique demands on your deck, so it's important to go with decking materials that are strong and easy to maintain.
As you begin to design the outdoor kitchen of your dreams, remember that the deck it's built on is one of its most crucial components. Read on for some helpful tips to get you started.
1. Choose deck materials that are strong enough for your outdoor kitchen
Before adding the considerable weight of an outdoor kitchen to your deck, it's best practice to make sure the deck is strong enough to support it. A solid deck frame—like one made of steel—is an essential starting point for your outdoor kitchen build. And when it comes to the deck surface boards, pairing durable composite decking with a steel frame is a great match.
Composite deck boards are strong and stable, making them an excellent choice to stand up to the heavy loads and high demands of your outdoor kitchen. They are also scratch- and stain-resistant to handle the wear-and-tear that comes with cooking and dining outdoors.
2. Install low-maintenance decking that's safe and durable
Once you've established a solid foundation for your outdoor kitchen, you'll next want to make sure it'll be a joy to use. That means you'll want to choose decking that maximizes fun while minimizing maintenance.
As a low-maintenance option for your outdoor kitchen, composite decking will give you the beautiful look of a hardwood, without the hassle of frequent upkeep that natural wood requires. With less time spent scrubbing and cleaning, you'll have more time for cooking and entertaining.
Having a non-slip surface is crucial for any kitchen-your outdoor kitchen is no exception. Select manufacturers provide composite decking with exceptionally high non-slip ratings, so you can be on sure footing for all your outdoor culinary adventures.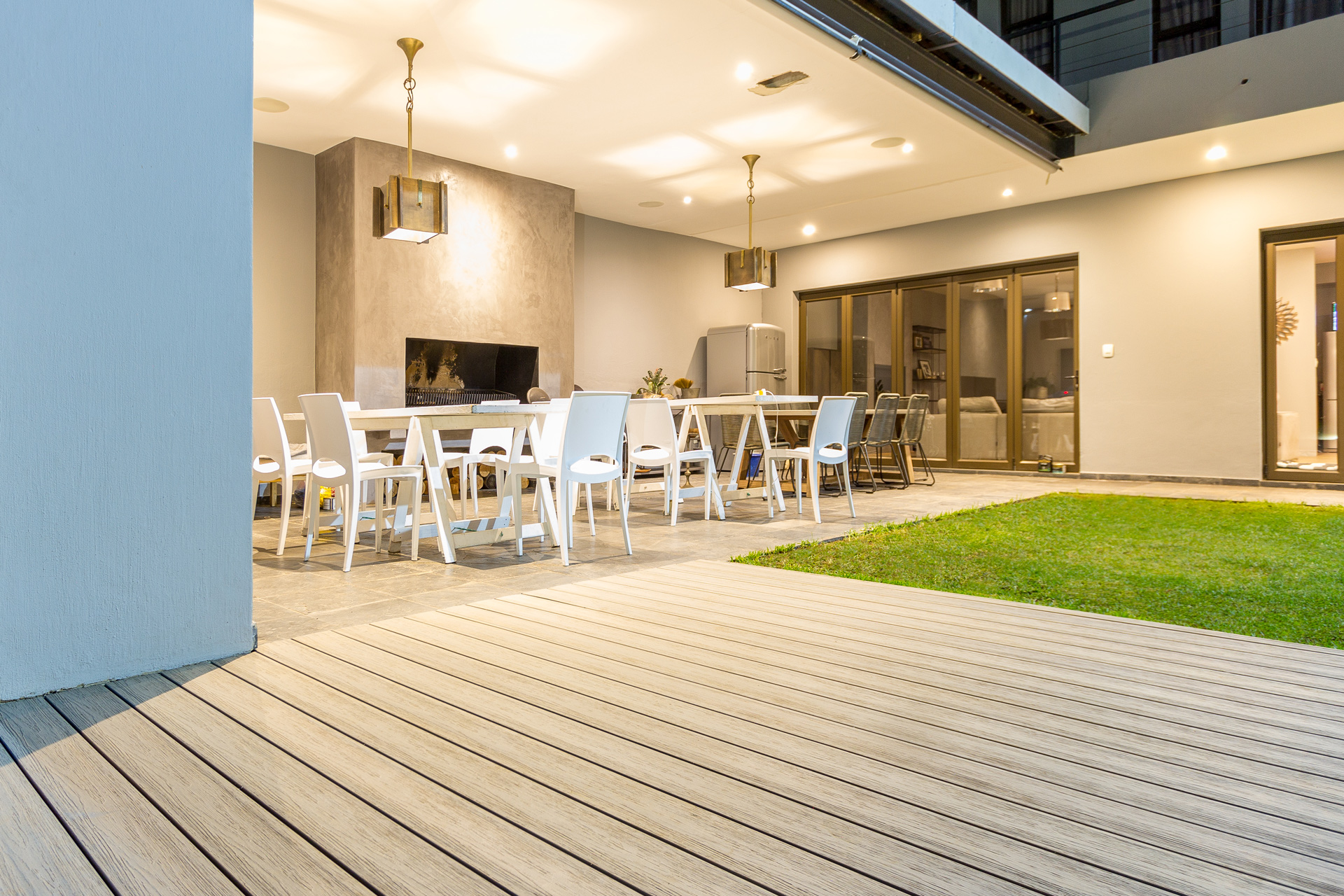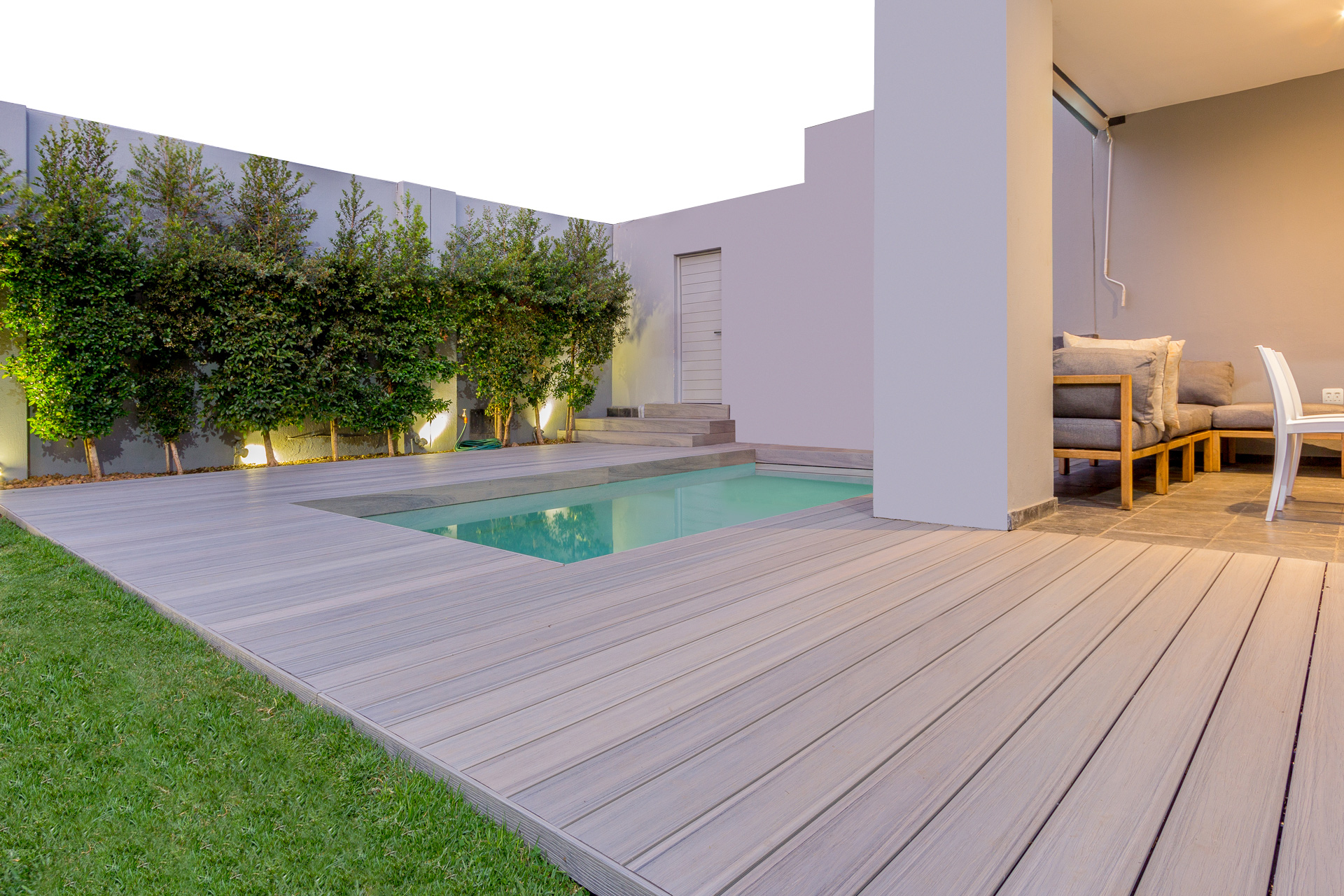 3. Stand up to food spills
Not only can you put an outdoor kitchen on PVC composite deck boards, but options like Apex® from Fortress Building Products can be the first step to a high-performance, low-maintenance space.
Such composite deck boards are outfitted with acrylic polymer caps that don't absorb oil or other foodstuffs, so they'll have no problem standing up to the inevitable food spills that are an unavoidable part of al fresco dining. While wood can be permanently discolored by a single dropped meal, these composite boards will bounce back to their original luster after a simple wipe down.
Since you'll be eating more meals on your deck, you want to have confidence that your outdoor dining room is hygienic. Unlike natural wood, composite boards have anti-microbial properties that provide a mold-free sanitary surface. Plus, they don't require the cleaning solutions that wood does, which are often made from harmful chemicals and emit fumes that hang around for hours after application.
Put your outdoor kitchen on a composite deck
The best outdoor kitchens start with sturdy and resilient building materials. Not only are steel framing and composite deck boards strong enough to handle the added weight, but these products are also easy-to-maintain even with the added demands of a kitchen setting. And with fade-resistant Apex PVC composite deck boards from Fortress Building Products, you can also pick from a variety of gorgeous hardwood-inspired finishes to have a deck that is as delightful to look at as it is dependable.
You may also like:
3 Outdoor Living Space Trends to Fall in Love with this Season
5 Steel Pergola Ideas That Won't Blow Away in the Trend
Deck Framing: Why the U.S. is Finally Embracing Global Norms