Building a deck can turn an outdoor living space into a homeowner's unique sanctuary. It can also be full of unexpected complications that can have DIYers spending more time driving to and from the hardware store than actually building their deck. Following the six steps below can help those new to construction streamline the process to ensure a straightforward deck installation project.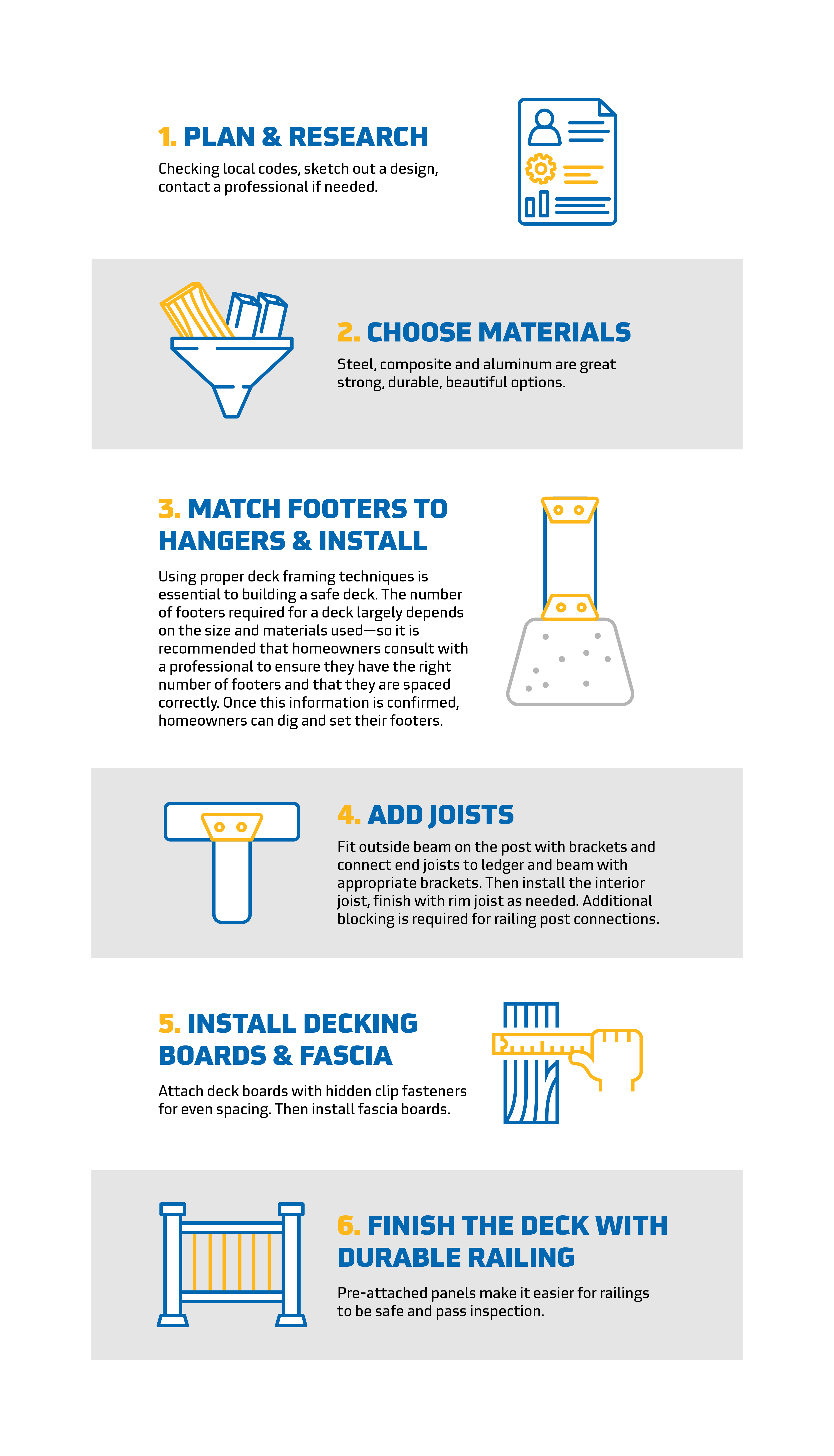 1. Plan and research
It might be tempting to answer, "Where should you start when building a deck?" with digging and pouring foundations, but that's not necessarily true. Before breaking ground, homeowners should check their local building codes to make sure they are aware of all regulations. For those new to building a deck, contacting a decking professional can help clarify any confusing ordinances. After that, drawing up plans will help make how big the deck should be and what materials it needs more tangible.
2. Choose the right building materials
With plans in place, identifying what is needed to build a deck is easier. In general, decks will need framing, deck boards and railing. It is important for homeowners to think about the weather, future additions (like a hot tub) and what they want their deck to look like to ensure they pick the best materials for their project. Using wood-alternative materials like steel, composite and aluminum can help homeowners achieve the look they want by coming in a range of colors and styles. Additionally, these materials provide the strength a deck needs to be structurally sound even after years in the harshest climates.
3. Match footers to hangers and install
Using proper deck framing techniques is essential to building a safe deck. The number of footers required for a deck largely depends on the size and materials used-so it is recommended that homeowners consult with a professional to ensure they have the right number of footers and that they are spaced correctly. Once this information is confirmed, homeowners can dig and set their footers.
4. Add joists
Deck joists are standardized to be 12 or 16 inches apart on center. Because framing is so important to the overall structural integrity of a deck, industry-leading manufacturers have developed steel framing systems that are pre-punched to make deck installation easier and the total system safer. Further, steel deck framing provides greater strength and weather resistance than traditional wood for a deck framing solution that resists rot, twisting and corrosion year in and year out.
5. Install decking boards and fascia
After the frame is built, it's time to add the decking boards and fascia. These elements are what make a deck unique. While wood boards are a traditional choice, they require labor-intensive upkeep to remain beautiful and safe. Composite decking sidelines this maintenance with a surface that resists weathering and fading so the board stays strong season after season. Available in several colors that match the warmth of tropical hardwoods, these boards deliver a natural and elevated look. Because they are grooved to be compatible with a hidden clip fastener system to ensure proper board spacing, they extend their visual appeal across the entire deck surface.
6. Finish the deck with durable railing
The final step to building a deck is to install railing, which is required for decks that are more than 30 inches off the ground. These railings keep people safe while they spend time on the deck. They can also add a bit of personal flair to any deck build. The narrow profiles of aluminum railing can fade into the scenery—especially when its panels use glass or cable infills. Baluster railing, on the other hand, can create a bold statement around a deck's perimeter. No matter the design aesthetic, pre-attached, bracketed posts from Fortress Building Products make installation quick and easy while providing code-driven strength and durability right out of the package.
Building a deck just in time for deck season
Going from a deck drawing to lounging on a dream deck can seem like a long and arduous journey, but it doesn't have to be. By connecting with local decking professionals, following the above steps and choosing long-lasting and durable materials, any DIYer can build a deck without all the headache.
You may also like:
3 Ways to Ensure a Safe Deck from The Ground Up
Deck Stairs 101: Why Deck Stairs Aren't as Complicated as You May Think